---
---
CHARLIE BATES SOLAR ASTRONOMY PROJECT
INTERNET OUTREACH CLUB
The Charlie Bates Solar Astronomy Project Internet Outreach Club (CBSAPOC) is a global coalition of like minded individuals whose primary interest is sharing solar astronomy with students and the general public.
The world's first internet based astronomy club is hard at work distributing solar related supplies, solar glasses, equipment, support and motivation to it's members around the world. There are no fees or charges for anything in the club if you abide by the general principles stated in the membership application. The club is the first of its kind and is recognized by the NASA Night Sky Network as an official astronomy club for event reporting.

The clubs guiding principles are as follows:


SAFELY SHARE THE HOBBY OF SOLAR ASTRONOMY FREE OF CHARGE
STUDENTS AND SCIENCE OUTREACH FIRST --- SELF AND EGOS SECOND
SUPPORT EACH OTHER AS OUTREACH PROVIDERS IN A NON-COMPETITIVE MANNER
SHARE MATERIALS AND EQUIPMENT WITH OTHERS WHEN POSSIBLE
ENCOURAGE OTHERS TO GET INVOLVED AND SUPPORT THE CLUB'S MISSION
CLUB MEMBERS QUICK LINKS


(ORDER SOLAR GLASSES HERE)
WE ARE IN 12 COUNTRIES WORLDWIDE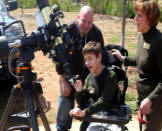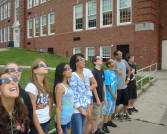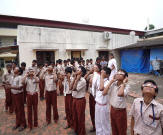 ---
If this sounds good to you and you would like to join the club then please see the steps for joining the club below.
you will be contacted ASAP with instructions on how to setup your free @solarastronomy.org email address and start taking advantage of the great opportunities that come with membership in our club.
HERE ARE THE STEPS TO JOINING THE CLUB!!
1) Fill out this membership application and email it back to me at sramsden@solarastronomy.org

2) Click this banner to join the club on NASA's Night Sky Network

3) Click this link to join the Solar Chat Forum for Club Members (please email your requested username and password to me)

4)Wait for your email containing instructions on how to access your free @solarastronomy.org email address and enjoy all the free club benefits..

---
CLUB MEMBERS